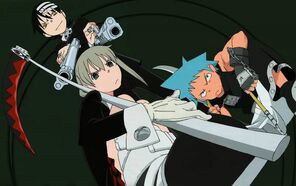 Meisters are humans with exceptionally strong souls, and use their wavelengths to attack. Usually this requires a
Weapon
to channel their soul energy, but in the rare case that a Meister has a very flexible soul, they can attack with their soul's
wavelength
directly in the form of
Soul Force
. Often a requirement of being a Meister is the ability of Soul Perception, but it is not always the case as even some normal humans are able to sense the spiritual plane, if only at a much smaller scale than the most powerful Meisters. Sometimes, though, a Meister's
Soul Percetion
can be about as weak as a normal humans, and the only requirement is to be able to manipulate thie wavelength and harmonize with a Weapon.
Meisters That Appear in the Series
Edit
Son of Professor Stein and Maire. Samuel is a teacher at the DWMA and perhaps one of the most powerful Meisters alive. His weapon is Sarah Scaife.
Ad blocker interference detected!
Wikia is a free-to-use site that makes money from advertising. We have a modified experience for viewers using ad blockers

Wikia is not accessible if you've made further modifications. Remove the custom ad blocker rule(s) and the page will load as expected.