Stats

Classification

Cat (Animagus?)

Height

6'2"

Weight

N/A

Race

N/A / Cat

Complextion

Purple fur/Fair

Hair

Purple

Eye Colour

Amber

Birthday

N/A

Soul's Sound

N/A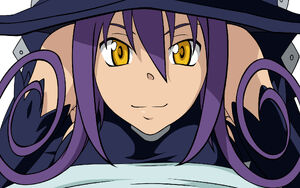 Simply put, Blair enjoys... activity in the bedroom is the safest way to put it. More often than not, Blaire is scantly clad in revealing clothing while she is human. Blaire appears to be more human than cat, as she yearns for human material items and appears briefly and infrequently as a cat.
Ad blocker interference detected!
Wikia is a free-to-use site that makes money from advertising. We have a modified experience for viewers using ad blockers

Wikia is not accessible if you've made further modifications. Remove the custom ad blocker rule(s) and the page will load as expected.